Last Updated: 10/01/2005
---
'97 GS-R Aluminum Wheels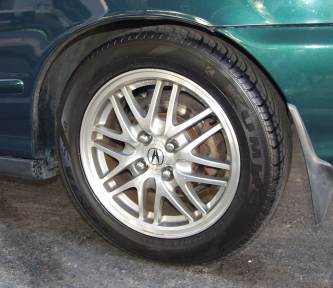 Stylistically, I think these 1997 GS-R aluminum wheels go well with my car, and Acura apparently agrees with me considering these became standard equipment on the LS until its last year (2001). From a performance standpoint, they weigh about 2 lbs. less than my original 14" steel wheels and tires, while adding the benefits of lower-profile tires. The quality, as can be expected from Acura, is excellent. The fit is also perfect, since the LS and GS-R share the same mechanicals in this area. The only possible disadvantage of these wheels is the lack of tire selection in the P195/55R15 size, but there are several popular tires available in this size, including the Dunlop SP Sport 9000 and SP Sport FM901, the Yokohama ES100, and the Kumho ECSTA Supra 712.
These wheels are very expensive if purchased new, but people frequently advertise used ones for auction on eBay. If you're interested in some other wheels for your Integra, just make sure they have 4x100mm bolt spacing.
Yokohama AVS ES100 Tires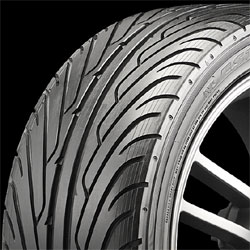 The Yokohama AVS ES100 tire is similar to my two previous tires, with directional tread and large tread blocks for high-performance summer driving and excellent rain traction as well. It comes in a large array of sizes including the ever-important P195/55R15 size for our Integras with 15" wheels, and has a budget-conscious price of $61 from The Tire Rack. Since I just installed them, I don't have much to report about them yet, but they have an excellent reputation and should perform much better than the disappointing Kumhos I had previously.
Kumho Ecsta Supra 712 Tires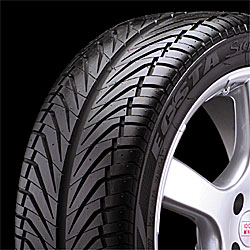 The Kumho Ecsta Supra 712 tire, like my previous W-10s, comes in the difficult P195/55R15 size, and also has a budget-conscious price of $65 from The Tire Rack. I've found they don't produce quite as much noise as the Dunlops, but they don't have as much grip either.
Update: I've found these tires also don't last nearly as long as my old Dunlops did, and actually wore down to the steel belt on one side without any obvious indications, almost causing a blowout. I've now replaced these tires with Yokohama ES100s, and do not recommend these tires at all. There are other good tires available for the same or even less money, such as the Yokohamas and the Dunlop FM-901. What's more, the ES100 is made in Japan instead of Korea, which has a much lower labor cost, so it's obvious that Kumhos are simply overpriced.
Dunlop SP Sport W-10 Tires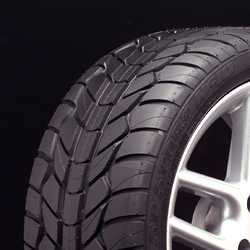 The Dunlop SP Sport W-10 tire comes in the difficult P195/55R15 size, and is a great tire at a budget-conscious price. This ultra high-performance tire has directional tread with large tread blocks and deep grooves for drainage, plus such features as Dunlop's "chaos" pattern to make tire noise less monotonous, and a rim protector to help prevent damage when parking along a curb.
Not only do they look great, but the performance is pretty amazing in my opinion, wet or dry. While I haven't tried anything like the SP Sport 9000 tires, I have driven on both the Michelin XGT H4's that came on my 14" LS rims, and the XGT V4's that came from the factory on my 15" GS-R rims, and they both suck. The W-10's have so much more grip that I've rarely gotten them to slide. They are very noisy at freeway speeds, but you get used to it. Another interesting property is that they are sticky enough to pick up small gravel and spray it into the wheelwells at low speeds.
Update: Unfortunately, Dunlop has discontinued the SP Sport W-10, and superceded it with the SP Sport FM901, which has gotten terrible reviews. Some other tires to look at in this size are the Yokohama ES100 and the Kumho ECSTA Supra 712.
Goodridge G-Stop Stainless Steel Braided Brake Hoses
These Goodridge G-Stop stainless-steel braided brake hoses have excellent fit, with brackets that are designed for the factory brake line mounting points. They also include banjo bolts and copper washers needed for installation. Installed, they look much nicer than the old rubber brake hoses, and provide a noticeably more linear response to pedal pressure due to less expansion because of the stainless-steel jacket. These brake hoses also have a lifetime warranty.
I do have to provide caution about the included banjo bolts, however: they're much less sturdy than the OEM bolts. They're also shorter, since the Goodridge hoses' banjo fittings are narrower than the OEM fittings. I managed to break one of the Goodridge bolts in half by torquing it to 20 ft-lbs; the instructions said the maximum torque was 24 ft-lbs, so I don't think it was my fault. I used the OEM bolts for the front hoses, and even though they were longer, they fit with no obvious problems. Because of this broken bolt, I have to downgrade my quality rating for these Goodridge hoses to "good".
Also, the instructions are generic for all cars, and leave out one important part for the Integra. On the front hoses, there's a 1" wide section of plastic tubing in the middle of the hose. There's a third bracket on the OEM brake hoses which you must reuse along with its rubber sleeve. Take it apart by bending one of the tabs up, and then place its black rubber sleeve over the Goodridge line's clear plastic tube (it compensates for the decreased diameter of the stainless-steel hoses), and place the metal bracket over this and bend back into place. Be sure it's at the correct location on the hose before you put it together.
Goodridge Part Number
G-Stop Brake Hose Kit
20018
AEM High Performance Brake Pads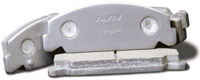 When I installed the stainless-steel brake hoses, I also replaced the front pads with AEM High Performance brake pads. According to their website, these pads use a ceramic-aramid fiber compound to provide high performance, yet have non-corrosive dust and low squeal properties. Their tests show their pads outperforming the stock Honda pads and Axxis Metal Master pads. In my experience, they seem to work well, but I upgraded them at the same time I upgraded the brake hoses and replaced a failed master cylinder, so I can't really tell the difference from stock pads. These pads come in an attractive silver color (both the friction material and the Nissin-manufactured backing plates), which compares favorably to the stock pads' rust color.